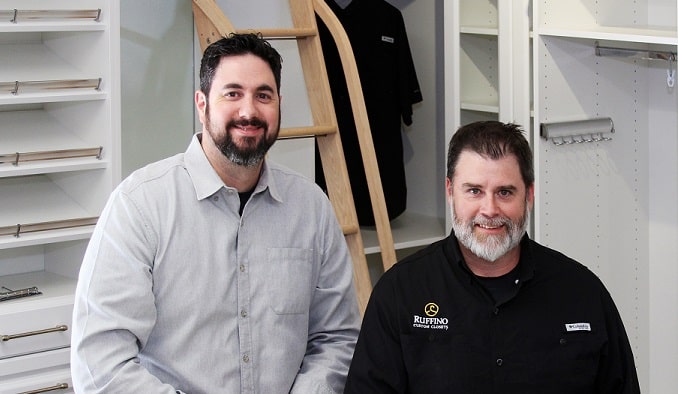 (Left- Christian Russell, Right- Matt Ruffino)
Custom Closet Designers in New Orleans
WE DO MORE THAN JUST BUILD CLOSETS.
"In a world of cut-corners and fast-talking builders, I've always believed in a different way of doing business. Ruffino Custom Closets is a full-service company in every sense: instead of just flipping through photos in a catalog, we'll invite you to our facility to preview your options for designs and materials. We've assembled the perfect team of designers and craftsmen to provide you with absolute world-class service for your next project.
You have my personal guarantee that your experience with us will leave you proud to be a part of the Ruffino family! We can't wait to get started on your custom closet in New Orleans!"
-Christian Russell
Accept Nothing But The Best
We're proud to provide our customers and potential customers with industry-leading manufacturers of closet material. Quality engineering excellence that results in innovative products that can withstand real-world use and abuse.
Our product has won a variety of awards for its innovation and durability, and Consumer Reports was one of 25 different publications to award our products the highest marks in the industry.
At Ruffino Custom Closets, we offer custom manufactured products at our local facilty to meet your exact standards. We take pride in being able to offer complete customizations per your needs and desires. We invite you to come by our manufacturing facility for a tour.